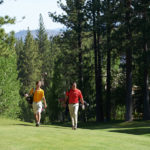 As we find ways to enjoy our mild spring weather thoughts of the upcoming golf season are surfacing more frequently.
A dozen members of the Club enjoyed a special opportunity at the end of January coordinated by our Head Professional, Pete Smith, to play golf at the wonderful Catta Verdera Country Club outside of Roseville. As might be expected there were a few rusty swings to sort out resulting in some scores in the 100's, but there were also a couple rounds recorded in the 70's.
Which brings to mind that the Northstar Golf Club is inclusive of all levels of players, whether your handicap is single digit or heading towards the 30+ category, there is always a round to be played and camaraderie to be shared with members of the Club. There will be additional opportunities to play "off the hill" before the end of the ski season. Exact locations and dates are announced with a 10 day lead time in hopes of being able to predict good gol ng weather.
New members are always welcomed, feel free to call or email our acting president, Peter Morris – 530.330.4300 Peter@PLMrealestate.com if you have any question or would like more information. Looking forward to the green fairways of summer…