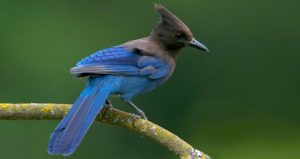 Stellar's Jays made a nest on our backyard light fixture. Watching the process from nest building up to fledging was quite entertaining. Twigs made the frame, then smaller pieces formed the nest. Eventually mud and grass lined the inside where four little eggs were then laid. Through snow and cold days and nights, the parents took turns keeping them warm. To our delight, we observed tiny beaks raised to accept food from the parents. As they grew, the babies took naps on top of each other or leaning against the house. When the parents joined them, they awoke and made squeaking sounds.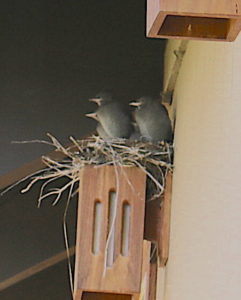 In two weeks the four babies became these large gray balls no longer fitting in the nest. Their only blue was a streak down the wings.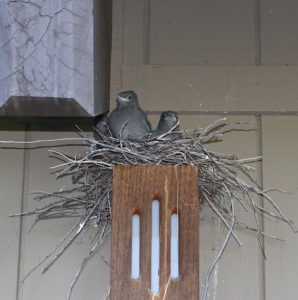 For a couple hours this morning the parents coaxed them to fly while perched on nearby trees. We took a quick walk and when we returned, all were gone.