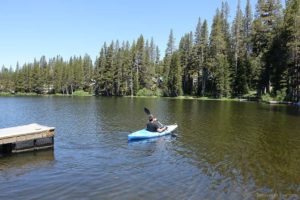 Serene Lakes unparalleled natural splendor and off-the-beaten-path quiet locale make it an easy contender for the title, "the best-kept secret" of the Sierra Nevada. Nestled in the heart of Donner Summit at elevation of 6800-7200 feet, Serene Lakes is comprised of two connecting spring fed lakes, Serena to the north and Dulzura just below which form the focal points of real estate development. The surrounding forested area has many streams, meadows, lakes and hiking trails. Located just two miles south of I-80 and Soda Springs, Serene Lakes is a convenient mountain getaway ideal for recreation enthusiasts. There is an active homeowners association.
Summertime
Summer months reward residents with tranquility, comfortable temperatures and low humidity. With an average 300 days of sun each year and most during summer could be the reason locals say they came for Tahoe's winters, but stayed for the summers. Numerous hiking and biking trails are a wonderful way to take in the beauty of this area. The lakes' clean water is ideal for windsurfing, sailing, fishing, swimming and paddleboarding. As a friendly reminder, water sports and fishing are restricted to Dulzura. Serena, true to its namesake must remain untainted source of drinking water for locals.
Wintertime
With 400-500 inches of annual snowfall and close proximity to world-class ski resorts, Serene Lakes is a winter paradise. Skiing options include Sugar Bowl Ski Resort, Soda Springs, Donner Ski Ranch, and Boreal. Royal Gorge Cross-Country Ski Resort, the largest x-c resort in the US borders this neighborhood.
Serene Lakes History
For thousands of years, Serene Lakes was a popular fishing spot along Native American trade routes, and obsidian arrowheads and ornate petroglyphs are still commonly found along its dirt trails. Serene Lakes is at the heart of the most traveled route during the California Gold Rush. Originally, the two lakes were known as Ice Lakes and were used by the railroad from 1870-1927, as a source of ice for the City of San Francisco before the development of refrigeration techniques. Commercially harvested and transported by the railroad the ice was central to the community's early prosperity. It has been said, that among the most famous visitors to Serene Lakes was the American Author, Mark Twain. Enchanted by the area he was the first to give names to the twin lakes. He called them "Serena" and "Dulzura," names that they retain to this day. The twins later became known as "Serene Lakes," which described their location and atmosphere.
Sorry we are experiencing system issues. Please try again.