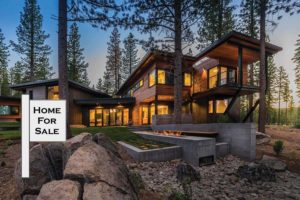 A year ago I would have written something very different. With Tahoe real estate inventory in very short supply not meeting the demand, we have a classic "seller's market." CNBC article about real estate situation in Tahoe explains this well.
For example, a 3BR/2BA listed for $575,000 received twelve offers just three days after going active. The accepted offer was 30% above asking price… today's normal.
Your agent has prepared your home.
It is now looking its best. Some items put away, others brought in for color, your home looks great. Our office is well equipped with decorative items and furniture.
Professional photography and video have been taken.
Your home is set up with a lockbox, facemasks, sanitizer, booties, COVID-19 precautions, and a For Sale sign.
Your home is on the internet.
Your agent has uploaded photos, video, floor plan, descriptions, and all the information pertaining to your property on our Multiple Listing platform (MLS).
Data and photos from the MLS automatically upload onto Zillow, Trulia, Redfin, Realtor.com and more. Agents can then enhance the listing on Zillow with extra photos and additional information.
Many buyers automatically get alerted for new listings by private real estate web sites or one of the major sites. The news of your home being for sale goes out quickly.
Your agent should post in the MLS when offers will be reviewed. There could be multiple offers submitted within a few days of going live.
Showing appointments…
An agent can control when showings are allowed by posting instructions to other agents within the MLS. Choices include "GO DIRECT," by appointment only, and/or list dates available.
Our MLS also has an appointment scheduling platform so agents can choose a time without overlapping with another showing.
Before showings, all
buyers must sign an advisory (C.A.R. form PEAD-V) about precautions and risks associated with COVID-19. Buyers are advised to avoid touching interior doors or cabinets, turning on light switches, or touching any other surfaces.
Today's buyers are instructed to have loans pre-approved, be ready to view a property with short notice, and make strong offers.