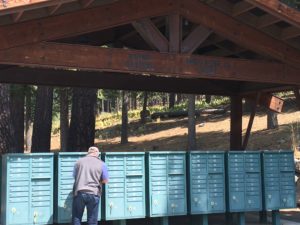 Packages returned, deemed undeliverable? How do we get letters or bills if there are no mailboxes or home delivery? Here are three options to receive mail depending upon your neighborhood. Visit the nearest USPS office, discuss available options and sign up to get a box in your neighborhood kiosk or a post office box in town. Prosser Lakeview Estates is the only neighborhood I am aware of that has individual mailboxes in which case mail as well as packages are delivered to your home without any special considerations.
Tahoe Truckee Mail Situations
1: Your neighborhood has USPS home delivery meaning you have a mailbox on your property. Your mailing and physical address is the same and carriers including the USPS will deliver packages and mail to your home. As mentioned above, Prosser Lakeview Estates is unique and most likely your situation will be described below.
2: Some neighborhoods have USPS mail kiosks (clusters of mailboxes) where the mailing address is the same as the physical address. If UPS transfers the last step of delivery to USPS, you will receive it along with your mail in the kiosk. A package may be in your box or a key will be left that opens a larger box at the same location. If too large, a notice will be in your box to pick up a package at the post office. You also may receive packages on your doorstep as expected if there was no transfer of responsibilities. Northstar, Old Greenwood, Tahoe Donner, and Alpine Meadows have mail kiosks.
3: When there is no kiosk or home delivery available, the only option to receive mail is with a box at the post office. Things get complicated when your mailing address is a post office box number yet your physical address is where many packages are delivered. USPS delivers to post office boxes and not physical addresses; all other carriers deliver to physical addresses and not post office boxes. If a carrier partners with USPS, then you will need both addresses to get a package.
Here is one solution. Provide your physical address and have your post office box number at the end of the zip code. For example, you live at 123 Main Street and your post office box number is 9876.
Jane Doe
123 Main Street
Tahoe City, CA 96145-9876
Another option is to use both if you have the opportunity to fill two lines for a street address.
Jane Doe
123 Main Street
PO Box 9876
Tahoe City, CA 96145
It becomes even more complicated if your physical address is in a different zip code than your mailing address. For instance, you live in Tahoma, but have a box in Tahoe City. I would use the zip code with box number for Tahoe City and just have your physical address listed because a street is unique, but the same box number can be used in numerous post offices.
I also recommend getting to know the postal workers and carrier drivers. Explain your situation. Many have been working here for years and will remember you. This is the benefit of living in a small town.