Indian Hills
(Bear Trap, Feather Ridge, Mill Camp, Rocky Point Circle)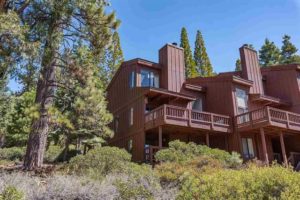 Indian Hills's 144 units are comprised of two and three bedrooms. Indian Hills HOA recently upgraded all walkways and stairs with beautiful pavers and new exterior lighting. All condos enjoy clearstory windows, vaulted ceilings with timber beams, fireplaces, and upper decks. Some have a lower deck, too. Original construction had lofts above kitchens, but some remodeled units removed them. Another modification the HOA allows is enclosure of entry. Exterior ski lockers and landing can be made part of interior space. This is approximately a $16,000 upgrade.
Gold Bend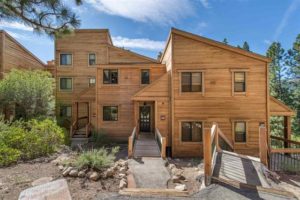 Gold Bend has two, three and four bedroom options among its 127 units. The natural wood siding gives this complex a fresh look. Many are easy walking distance to the Village, but the shuttle is available if you prefer. All have an upper and lower deck, vaulted ceilings with timber beams, fireplaces, and covered entryways.
Aspen Grove
(Silver Strike, Aspen Grove)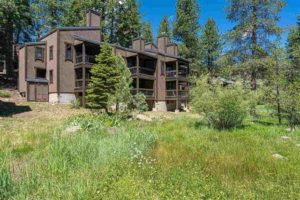 Aspen Grove is Northstar's first condo complex built in 1973. It is conveniently located close to the Village and NPOA's Recreation Center, but if you prefer you can take the shuttle. Aspen Grove HOA recently installed beautiful walkway pavers and new lighting just like in Indian Hills. Options include studios, 1BR, 2BR, 3BR, and 4BR among the 180 units. Each unit has a fireplace, deck (larger units have two), covered entry, and vaulted open beam ceiling. Studios have full kitchens. Kitchen remodels often remove the upper cabinets above bar to create a Great Room. Many fireplaces have been converted from wood burning to gas.
Ski Trail
(Coyote Fork, Ski View)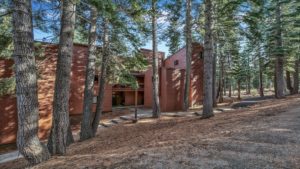 Ski Trail condos are ski in / ski out located just uphill from Northstar Village. Shuttle service still is available if you prefer. Many are right on the ski slopes with skiers going by. Options include 1BR and 2BR of its 144 units. Originally the 2BR's were 1+loft, but many have enclosed the upstairs to make a bedroom. End units have decks. Many have kept the gas stoves or upgraded the fireplaces, while some have removed it creating more living space. Laundry facilities and ski locker rooms are in each building.
Timber Creek Lodge
2000 North Village Dr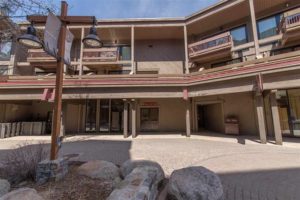 Click here for all Northstar Village listings including Timber Creek Lodge.
Timber Creek Lodge is in the heart of Northstar Village. Walk to the gondola, restaurants, ice skating rink or NPOA Recreation Center. It is that easy. 62 units are comprised of studios with a possible efficiency kitchen or 1BR (lofted) with full kitchens. A creative remodel has converted a studio into 1BR with full kitchen. There are possibilities… All units have designated parking for 1 vehicle, some in the carport, others next to the building. Elevator for convenience. Common laundry facilities are available.
Sorry we are experiencing system issues. Please try again.